CROSSROADS CENTER OF HOPE
Crossroads Ministry, Inc.
(865) 483-4673 (Hope) 
Currently, for those needing to take this class, they are being referred to the Helen-Ross McNabb Facility in Oak Ridge, behind the YWCA.  
Nurturing Skills For Families™
Nurturing Parenting Strategies and Techniques for enhancing empathy, self-worth, personal empowerment, and discipline with dignity.
This program was founded on the belief that children who are cared for develop the capacity to trust, care and respect themselves, other people, living creatures, and the environment.
Moms and dads will learn that being a parent is the most rewarding job they can have, for the rewards are numerous even if the job is, at times, overwhelming and challenging. We will be their support and encouragers.
Nurturing Skills for Families
™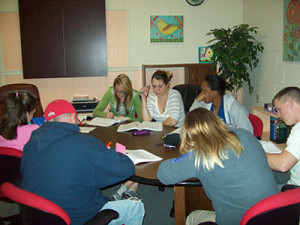 This certified program will walk moms and dads through all aspects of parenting with the help of DVDs, a workbook, and journaling. The classes deal with the in's and out's and complexities of raising children while gaining support from other parents in the same situation.
Nurturing Skills for Families™ is 7 continuous weeks from start date with a one-week break between each session. Weekly attendance is required to receive a Certificate of Completion.
Parents may begin at the second class however if someone registers mid-session then we will begin another class rather than mixing the two. This will allow continuous bonding and trust within each group.
Nurturing Parenting
Cultural Parenting Traditions
Developing Spirituality in Parenting
Making Good Choices
Growth and Development of Children
The Importance of Touch
Developing Empathy
Recognizing and Understanding Feelings
Understanding and Handling Stress
Understanding and Expressing Anger
Understanding DisciplineRewards and Punishments
Punishing Children's Inappropriate Behavior
On the day our parents receive their Certificate of Completion they are asked to write down what the class meant to them.  Following are some of the notes:
     I have enjoyed class.  It has helped me learn better ways to cope with my children and knowing I am not alone in these hard times.  I have grown to enjoy class and will miss it.  I have realized that I am not alone as a parent.  I love the spiritual growth that has come with this class..    Bethany
    This class has been very helpful and inciteful for me.  I have gained information about the care and development of my child I wouldn't have acquired if not participating here.  My thanks go to all staff at Crossroads Ministry for the caring and understanding of parents such as myself to be willing to help teach, show love, and compassion for my situation knowing this class will help me improve my parenting skills..  Phillip
    This class has meant a lot to me by helping me open my eyes and realize that others just like me and also around me are having the same issues.  It helps to hear and see the different ways perents go about  handling things.  Ms. Cora is an awesome teacher whom I enjoyed sharing my life experiences with.  Always had a great attitude, temper and helpful advice.  Over all I enjoyed the class.  It helped me open my eyes into different rules and approaches to parenting.  I had an awesome time and recommend for this class to keep going and inviting others with parenting/family issues.  Thanks for letting me be a part of this family!   Eddie
    What does this class mean to me?  The class was very helpful in helping me understand my daughter's emotions.  Since being in the class I sit down and listen to her side and allowing her to explain to me her feelings and why she acted out.  I would recommend that every new parent attend the class..   James
    What did this class mean to me?  This class has helped me in many ways to understand alternate ways to deal with my daughter's bad attitude and bad behavior problems.  This class has also helped with DCS to help get custody back of my daughter after she was taken away from us in another state.  My husband and I got into an argument, they took her from our home and placed her with a man that did bad things to her and we were in a bad situation with DCS so moved to Tennessee to help my husbands parents.  Taking this class has helped us be able to regain custody of our daughter.  Cora here with this program has been amazing with helping us, writing a letter to the other states DCS and being there for advice and support, really doing more than what is expected of her..   Jill